Meeting people on my brief return to London made me feel a little fraudulent - why travel all that way to get a train back 2 weeks in! Anyway, re-loaded with more packets of Sainsburys couscous I sped through France back to Lausanne.
My first taste of the Italy to come was courtesy of Lucio's pasta. It reminded me of when he had invited us over to Caledonian Road during university for spaghetti amatriciana - just quickly knocked up dishes to him but delicious! I had no problem in devouring a double portion!
Lucio and his lovely flatmates Jan and Linda
I had been looking forward to day 19, a chance to slice through the Valais on relatively flat ground in the shadow of the alps, passing close to the big ski resorts; Chamonix, Verbier etc. Unfortunately most of the morning was misty and rainy so I couldn't even see the impression of mountains. The good news was that finally I had the wind behind me. Once again though, juggling main roads and off piste cycle paths left me with a puncture and I ended up sticking to the tarmac option, which left me in a brief spot of bother with the police through a busy road tunnel. They waved me on though and I ended up getting to the campsite just too late to enjoy the thermal baths. The sun had come out in the afternoon now revealling the challenge that lay ahead the next day; the Simplon Pass.
The sun after the storm in the Valais.
Arriving in Brig the next morning for a pre climb breakfast, the ski resort smell was present in the air; a mixture of log fires, dry cold and ski wax! It was gorgeous out; clear and sunny. I hadn't even shaken off the outskirts of town before it got tough, having chosen to start on the less busy road. I wound past a cable car, which was unfortunately not in operation! I rationed myself to half mile stretches with a 2 minute break to catch my breath and survey the view; a tip I had picked up about breaking down big tasks in the papers at the weekend.This worked like a dream, so much better than the climb in the black forest, and soon I had a grand view back down the valley. When I joined the main simplon pass route it had plenty of lorries but wasn't as steep. From here though I'll let the pictures do the talking.
2 minute rest break
Damned cable car not in use
Big bridge avoids down and up
A longer distance is preferable to a steep pitch!
Scott having a 2 mintue rest break
Total gridlock!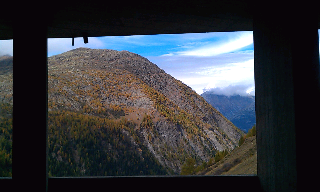 View from a tunnel
Success
More success
View from success stop
What a feeling, highest altitude of the trip and a perfect mountain restaurant with a good view into the pass. The Spaghetti Bolognese was presented by a Swiss Italian, rather than Swiss German, and it was perfect. The Simplon pass route was apparently instructed to be built by Napoleon to form a quick passage between France and Italy but while I gorged it was the Swiss army that were moving in! Tanks and military vehicles rolled past and I was to find on my descent, a massive barracks set into the landscape.
Oh Dear!
35mph
Swiss army barracks
Napoleon related museum
Bongiorno Italia!
First glimpses of Italy
Before embarking on the downhill (downmountain!) I was confronted with a sign that showed a lorry with wheels (I assume brakes) in flames! If only I had a helmet cam, 35mph weaving down, through open sided tunnels, around hairpins.... exhilarating!
The border crossing into Italy was another stark change of vibe. Old buildings left in ruin and lived in houses left to decay gracefully. A brightly coloured bouquet of flowers on a seemingly unloved home showed the warmth inside.
I got to my original destination, Domodossola, early. A bustling cafe culture in the main piazza was tempting but I decided to push on to Lago Mergozzo / Maggiore to attempt my dream lakeside camping experience. About 5 miles out from my destination, and without any trigger, my left knee developed a strong pain and I couldn't put any weight on it. I struggled to get in and out of the clip in pedals at stops. Things looked up as I reached lakeside at Mergozzo - pizza and relaxing by the lake entered my mind's eye. Now just to get set up at one of the multiple campsite options! No.1 closed, No.2 closed, No.3 closed ... do I go on and try the next lot or back to the hotel I had passed. I called ground control (dad) and we decided on a cheap hotel further on the next day's route.
Lago Mergozzo
I had better leave it there for the moment as I am burning the midnight oil before setting off on 8 days straight through Italy, Slovenia and Croatia to hopefully meet Alex in Ploce.I will finish this off when I find some WiFi en route.